Tamagawa Vision 2020
In a globalized society, high-quality educational programs that develop graduates capable of succeeding on the international stage are key.
Ever since our founding, Tamagawa Academy has continually offered its unique brand of leading-edge education. In 2006, we launched the Tamagawa Academy K-12 Educational System, which provides an integrated syllabus from kindergarten to high school. Working with universities and research institutes, we have also redesigned our curricula to transform education. In 2009, we introduced an International Baccalaureate program, which allows students to gain eligibility for admission to universities around the world. We're nurturing a new generation of leaders capable of succeeding on the international stage.
In the area of undergraduate education, declining birthrates mean easier access to university entrance in the near future. How can we maintain educational quality under these circumstances? Based on guidelines issued by the Ministry of Education, Culture, Sports, Science and Technology, Tamagawa University has examined the capabilities of its graduates. In 2009, Tamagawa University established the Center for Undergraduate Programs to improve undergraduate education.
Based on the goal of continuing to develop our educational activities and with "quality assurance" as our motto, we crafted Tamagawa Vision 2020, a vision that looks ahead over the next ten years. Based on this vision, we're committed to establishing a new Tamagawa brand and to providing education that meets the demands of society.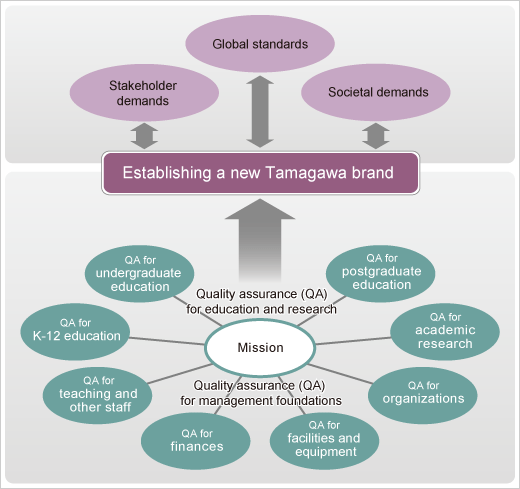 Mission Statement
Tamagawa Academy (K-12) and University exist to fulfill our duties as a school as set forth in Article 1 of the School Education Act and to deliver high-quality education and research meeting the demands of the times and of society, based on international relevance and credibility.
To this end, based on an educational approach comprising six core values—truth (learning), goodness (virtue), beauty (art), holiness (religion), soundness (health) and wealth (life)—our goal is to produce "life pioneers" unafraid of failure and eager to embrace difficult challenges.
Quality Assurance Goals
Tamagawa Academy (Kindergarten – High School)
Improve the academic abilities of children.
Improve the life skills of children.
Improve the qualities and capabilities of our teaching and other staff.
Provide an integrated K-16 education on one campus.
Deliver a style of education unique to Tamagawa.
Undergraduate Education
Establish numerical targets and indicators for educational activities; meet international evaluation criteria.
Shift from an emphasis on teaching to an emphasis on learning.
Expand international education and international exchange; improve student English skills.
Provide practical, hands-on education based on objective foundations.
Improve teacher training through our teacher training program.
Improve the teaching capabilities of our teaching staff.
Expand assistance for raising student inspiration and improve the learning support environment.
Support improved job-finding skills.
Strengthen ties between high school and university and ties throughout kindergarten, primary school, middle school, high school, and university.
Act to benefit society; strengthen ties with alumni.
Further improve systems applied to verify the effectiveness of undergraduate programs.
Postgraduate Education
Lend postgraduate education a more practical focus.
Expand programs of international exchange.
Improve the teaching and research guidance capabilities of our teaching staff.
Strengthen ties to undergraduate programs and to Tamagawa Academy (kindergarten – high school).
Act to benefit society.
Academic Research
Energize research.
Promote and take the lead on research in cutting-edge fields.
Promote interdisciplinary and collaborative research.
Expand the range of research issues related to undergraduate and postgraduate education.
Management Foundations
Establish a personnel policy and improve the qualities of our teaching and other staff.
Invigorate organizations; strengthen communication with stakeholders.
Improve facilities and equipment with an eye on the future (Campus Master Plan 2011-2020).
Establish stable financial foundations.