Research Activities of Graduate Students
Research Scenes




Incentive Events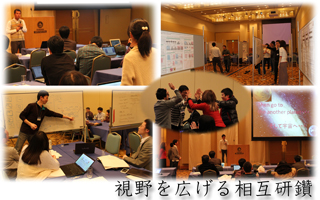 Brain Science Workshop
The graduate students, the researchers and the faculty members concerned with brain sciences in Tamagawa University gather and spend a few days in a hotel in order to discuss ongoing works of all members intensively. This is a good opportunity to expand our outlooks.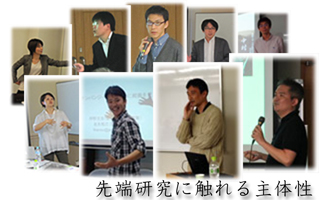 Forum for Young Researchers
The graduate students and the young researchers concerned with brain sciences in Tamagawa University take an opportunity to invite speakers to this forum by themselves. They can experience advanced researches and interact with leading researchers in the field of brain sciences.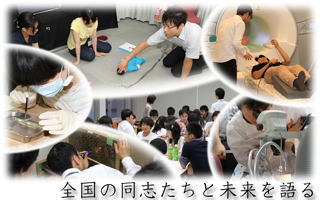 Brain Science Training Course
Tamagawa University Brain Science Institute annually opens a training course for undergraduate and graduate students, and young researchers in Japan to learn research techniques on brain sciences. Our graduate students are given an opportunity to promote mutual friendship with the participants from all over Japan.
Representative Publications of Our Graduate Students
Jessica E. Taylor et al. Neurosci Res. 2016 Jun;107:38-46.
Kuniyuki Nishina et al. PLoS One. 2015 Oct 7;10(10):e0137089.
Takayuki Fujii et al. Sci Rep. 2015 Mar 12;5:9025.
Hiroaki Hayakawa (Ph.D 2015) et al. Cogn Neurodyn. 2015 Feb;9(1):1-12.
Tadanobu Chuyo Kamijo (Ph.D 2014) et al. Cogn Neurodyn. 2014 Aug;8(4):267-76.
Masashi Kondo (Ph.D 2014) et al. Brain Res. 2013 Aug 14;1526:1-14
Noriya Watanabe (Ph.D 2013) et al. J Neurosci. 2013 Mar 6;33(10):4487-93
Yoshiya Yamaguchi (Ph.D 2013) et al. Neural Netw. 2012 Nov;35:88-91
Yosuke Saga (Ph.D 2011) et al. J Neurosci. 2011 Jul 20;31(29):10648-65