College of Arts and Sciences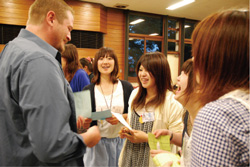 In the College of Arts and Sciences, students round out their education from a range of courses covering the humanities, social sciences, and natural sciences, and specialize in areas of their own interest.
In today's world, the quantity of knowledge and information that people can access is dramatically increasing and, arguably, the quality of such is also rapidly accelerating. In such a diversified and complex society, it is educational programs such as liberal arts that transcend narrow specialization and that are currently in demand.
Through a liberal arts program, we aim to cultivate the knowledge and skills gained from experience and practice that allow us to keep pace with this rapid change. With a consistent focus on the core tasks (Plan, Practice, and Promote), we nurture awareness, attitudes, behaviors, and skills that are required by those who wish to be leaders and active participants in the multi-faceted communities of education, business, public service, and international exchange.
At the same time, as we focus on careers and professions, we want our students to become fully-fledged members of society with both the ability to recognize problems and challenges, and the necessary skills with which to seek effective solutions.
"Understanding the world, to know oneself." This is the goal of the College of Arts and Sciences.
Department of Liberal Arts
The four-year program (eight semesters) is divided into a 3-2-3 system.
The first three semesters focus on building communication and presentation skills in both English and Japanese. Each student carries a laptop computer and is required to build, over the four years, a digital portfolio that documents the learning process and its outcomes. Students select from a wide range of introductory courses that bridge the division between the arts and the sciences. Students acquire basic academic skills while learning by means of a multidirectional approach.
Over the following two semesters, students select a field of specialization from among seven disciplines and explore deeper into their chosen field. Various learning styles are implemented, such as fieldwork, surveying, experiments, lab work, and project planning and implementation. Double majoring is also possible. In addition, students can participate in a Pacific Rim program that encourages them to study abroad for one semester or the whole academic year with full credit granted.
In the final three semesters, students focus on their selected research themes, and work to complete individual research or projects required for graduation, as the culmination of their undergraduate experience.