College of Education
Tamagawa University has been dedicated to training highly qualified educators over the long years since its founding. After the re-establishment of the University under the post-war educational system in Japan, the Department of Education, in the Faculty of Arts and Education pursued educational activities and research with the aim of producing graduates with good character and a commitment to lifelong learning. The small class system has been adopted to facilitate interaction among teachers and students and to make possible a variety of training programs and practices. In recent years, education in information and communications technology and foreign languages has also been introduced, to respond to students' needs and interests. In April 2002, the Department became independent from the Ministry of Education, Culture, Sports, Science and Technology (MEXT) and made a fresh start as the College of Education, Department of Education. In April 2003, the Department of Early Childhood Care and Development and the Department of Education were founded.
Department of Education
A flexible educational program implementing a system of majors (subject area specialization) has started at the new Department of Education in the College of Education. The program aims to prepare educators to play roles in a broad range of areas, including school-based education, adult education and lifelong learning. Moreover, we are pursuing an emphasis on the following indispensable skills of the educational professional in the 21st century: Literacy in English, Information Literacy, and Service-Oriented Learning, in which practical learning experience is gained through educational volunteerism. Still further, we will continue to strengthen our ties with our pre-school and elementary schools and enrich the quality of our overseas training programs.
Department of Early Childhood Care and Development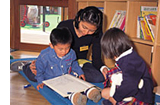 In modern day society, nursing and education services for infants continue to diversify and advance. In the Department of Early Childhood Care and Development, which mainly concerns infants aged between 0 and 5 (pre-school years), the curricula have been organized to enable students to envision early childhood care and education for the new age. The Department aims to respond to the social realities of our times, and has maintained ties with the Department of Education. A broad array of subjects related to early childhood development is on offer, integrating pedagogy and medical/health sciences. Topics covered include pediatrics, nutrition science, brain science, support for child rearing, parenthood education, environmental health, crisis management and emergency medical care. Extensive training in English and information technologies is also offered, to equip students to keep pace with rapid progress in globalization and information technologies. Close ties are maintained with the Department of Education by establishing numerous courses taken by students of both Departments, to create more diverse and advanced curricula. The Department thus aims to develop graduates capable of contributing in a number of different areas. The Department trains not only teaching and nursing professionals such as kindergarten or nursery teachers, but also child rearing support coordinators and other professionals.