College of Business Administration
The Department aims to equip students with high ethical standards and a "public mind", and to give them the capability to communicate effectively to conduct business activities in the international environment of the 21st century. Students acquire practical knowledge in business management, marketing and finance. In addition, their English proficiency and information network operation capabilities are improved so that they are able to play leading roles in the business world. The Department also offers support to students wishing to acquire a Master's Degree in Business Administration (MBA) from overseas universities.
Department of International Management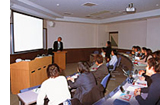 The "public mind" refers to corporate ethics and public awareness. The "business mind" refers to problem-solving skills in the business arena. At the Department, students learn the three major areas of business, namely management, marketing, and finance, based on the types of sensitivities that play important roles in international society. Extensive lessons on English and information literacy are provided, in a way comparable to vocational schools, so that students acquire practical English skills and sufficient information network operation capabilities. Then, students elect an area of specialization from the International Business Course, the Tourism Business Course or the e-Business Course, to acquire more practical skills.
Moreover, students can develop their skills through activities such as internships at enterprises in various localities, overseas programs such as studying abroad and international research, and support for acquiring a Master's Degree in Business Administration (MBA), with the aim of becoming world business leaders.