College of Engineering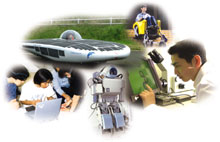 Industrial society has traditionally supported mass production and mass consumption with a priority on development, but has now transformed into a society based on knowledge and information, backed by sophisticated network systems. In today's society, value is placed on the latest knowledge and the necessary information. Indeed, the 21st century is the era of the knowledge-based industrial society, where the economy is built on knowledge and information. To respond to the demands and requirements of present-day society, the College at Engineering at Tamagawa University has cultivated graduates who can generate, cultivate and convey useful knowledge to society as well as professional engineers who can assume leading roles in this knowledge-based industrial society. The College readies people to be active on the global stage, equipping them with skills in engineering that are in harmony with nature and engineering practices that are people-friendly. These are people who will address the serious issues that society faces, such as environmental issues that include resources and energy depletion, rapid population growth and the ageing of the population.
Department of Intelligent Mechanical Systems
In the age where the core technologies of machinery, electronics and information are integrated, the Department of Mechanical Systems strives to cultivate engineers with a broad base of knowledge that spans machinery, electronics, information and more. Furthermore, intelligent robots, solar power and other projects will be launched for students to learn quality manufacturing. In this way, the Department will contribute to society by cultivating practical engineers.
Department of Software Science
Social infrastructure, mobility within our environment and amusement-related areas continue to advance on a daily basis. To sustain social development in the future, it is important to cultivate human resources to provide technical support for these changes. The Department of Software Science offers comprehensive programs that enable students to learn program development, network technologies, image processing, mobile technologies, techniques in game creation, animated movie technologies and others, thereby training engineers to support these industries.
Department of Management Science
Students are expected to acquire business planning abilities founded on a scientific viewpoint and to become professionals capable of a range of activities from product development to business management. With "humans," "information," "environment" and "service" as the keywords, the Department provides courses in strategic management from scientific and engineering viewpoints. The objects of study encompass not only the three main elements of product manufacturing, namely quality, manufacturing and cost, but also products, services and prices. Through these disciplines, students will acquire the theory and methodology of efficient management.
Department of Engineering Design
The aim of this department is to lead 21st century fabrication technology based on digital technology. The curriculum is composed of the subject on conventional mechanical engineering, and state-of-the-art digital-related issues. The former contains design & drawing, experiments and other fabrication technology. The latter, digital production engineering, industrial design by practicing and drilling a 3D printer, a 3D scanner, a laser cutter and some other digital machines. By learning not only main design & fabrication technologies but also planning skills, management control and communication skills, students can be welcome on a global basis as an engineer, a product designer, a manager and every kind of categories. It is possible that students make products which they imagine so that they can become an epoch-making engineering human resources.