College of Agriculture
Department of Agri-Production Sciences
Approaching the true nature of life from both biological and chemical perspectives, this department trains human resources who can contribute to the future of the food production. Students investigate organism functions and characteristics from the molecular level to the individual organism level. The department also offers a curriculum for students aiming to be science educators.
Department of Agri-Environmental Sciences
Focusing on understanding natural and production environments, this department trains human resources who have a multifaceted regional and international sensibility and who can contribute to the building of a sustainable recycling-oriented society. All students participate in a 4-month Study Abroad Program in Canada or Australia, which includes not only English learning but also specialized subjects and field work.
Department of Advanced Food Sciences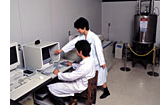 Students investigate safe and secure food production methods as well as food functionality and safety. They learn about practical food-related technologies, including "plant factories" and techniques for developing new food functions and high-value-added food products. Taking a wide-ranging experiential learning approach to "food," this department nurture human resources capable of supporting the world's food and agriculture.