International Exchange
Basic skills in the Japanese language and an understanding of Japanese history and culture lie at the foundation of education for international understanding. With this in mind, we will work closely with each of our school's divisions to plan and implement programs-appropriate for the relevant age levels-for sending our students to overseas study opportunities, and for taking in exchange students. Our Center is the main body that coordinates exchange arrangements with Round Square schools world wide in addition to 15 affiliated schools. We work closely with the program coordinators at each of our school's divisions to exchange relevant information. In 2005, we were accredited as a member of the Round Square organization, which has a philosophy that embraces a series of six pillars, summarized in the word IDEALS. These pillars-Internationalism, Democracy, Environment, Adventure, Leadership, and Service-serve as the bases for developing programs that will nurture young people with internationally recognized language, thinking, and leadership skills.
Kindergarten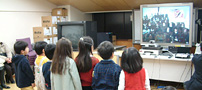 The main focus will be to become aware of the existence of other countries. Video conferences with The Harker School in San Jose, California, and daily activities with ELF (English as a Lingua Franca) teaching staff will be used to give kindergarten children opportunities to come into contact with different cultures, and to experience differences in language and culture.
1st-4th grades


The emphasis here will be on getting students to turn their attention to the world. E-mails, Christmas cards, posters, and artwork will be exchanged with students at schools overseas with which Tamagawa has partnerships. Video conferences will also be held with The Harker School. Students will learn about differences among cultures.
5th-8th grades




The spotlight here will be on allowing students to experience differing cultures. Exchange programs with schools that have partnerships with Tamagawa will be carried out. By giving opportunities for students to communicate with children overseas of the same age, global sensibilities will be fostered among our students. In the eighth grade, students will have the chance to take part in group field activities and stay at our Nanaimo Campus in Canada. We will build on the six precepts of Round Square's IDEALS to nurture leaders instilled with values of internationalism and service.
9th-12th grades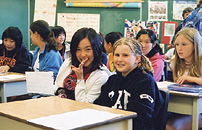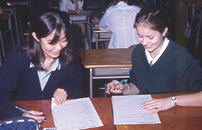 The concerns for these grades shall be the formation of personal identity and the ability to communicate Japanese culture abroad. Short, medium, and long-term exchange programs will be carried out with schools that have partnerships with Tamagawa. These programs may involve exchanges related to sports or music. Individual students may also choose to pursue longer stays abroad. Each of the programs is different, and can be selected to fit student needs.