Graduate School of Humanities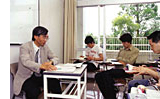 In conducting education and research, the Graduate School of Humanities has as its fundamental principle the acquisition of advanced specialist knowledge and the furthering of academic research, building upon Tamagawa University's tradition of and achievements in providing a robust all-around education. Taking into account the report published by the Central Council of Education, "Graduate School Education in the New Age," a Human Sciences Major and English Education Major have been established to "develop human resources, equipping people with high-level, intellectual education capable of supporting an information-based society in diverse ways." Responding to societal demands, cooperation with the regional community and international exchange will be actively promoted by providing for flexibility in completion of the program requirements. In addition, we will support our students by providing an environment that facilitates study and academic advancement, including research rooms dedicated to graduate student use, a teaching assistant system, scholarships, and support for attending and/or giving presentations at conferences.
Human Studies Major (Master's course)
In the Human Sciences Major, the diverse aspects of modern society and of humankind are researched comprehensively from a variety of perspectives, including through culture research, social ethics research, cognitive behavior research, and brain sciences research among the fields of education and research covered. We aim to develop graduates capable of showing leadership in diverse situations, utilizing such attributes as a broad perspective, comprehensive reasoning and careful judgment, and a high standard of ethics.
English Teaching Major (Master's course)
In the English Education Major, the linguistic culture pertaining to English education is researched in a specialized and technical way, with English teaching research, applied linguistics research, and cultural research of the English-speaking world as the areas of education. We develop graduates capable of shouldering responsibility as a nucleus of English education and international exchange in linguistic culture, by cultivating a sophisticaled ability to conduct research into linguistic cultures, a rich view of languages, and the abilities to lead and to put theories into practice.