College of Education
Tamagawa University has been dedicated to training highly qualified educators over the long years since its founding. After the re-establishment of the University under the post-war educational system in Japan, the Department of Education, in the Faculty of Arts and Education pursued educational activities and research with the aim of producing graduates with good character and a commitment to lifelong learning. The small class system has been adopted to facilitate interaction among teachers and students and to make possible a variety of training programs and practices. In recent years, education in information and communications technology and foreign languages has also been introduced, to respond to students' needs and interests. In April 2002, the Department became independent from the College of Humanities and made a new start as the College of Education. In April 2003, the Department of the Early Childhood Education and the Department of Education were established.
Department of Education
This department seeks to train future leaders in education and individuals who will serve as specialists across a broad range of human services.
Department of Early Childhood Care and Development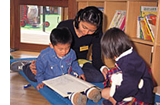 The Department of Early Childhood Care and Development offers a full range of courses combining education and health sciences. The courses include but are not limited to pediatric medicine, nutrition science, and environmental health. This department trains human resources who will be capable of thriving in a broad area, other than kindergarten and nursery teachers.