College of Arts
Department of Performing Arts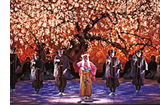 By instilling a core of practical skills in fields such as music, drama, and dance, the Department of Performing Arts seeks to train not only performers, but also individuals capable of engaging in artistic activity while remaining mindful at all times of the point of contact between the performing arts and society.
Department of Media Arts and Design
Students in the Department of Media Arts and Design can learn media arts (video, computer graphics, light art, integrated arts), design, computer music, music theory as well as integrated arts theory, and acquire the skills for expression in today's multimedia environment with digital technologies, as well as a knowledge of English for a global society.
Department of Arts Education
The Department of Arts Education offers a wide range of teacher training programs in the fields of music, fine arts, and industrial arts. In order to put arts education into practice, the department has established a curriculum where one can acquire broad knowledge related to educational principles, methods, and techniques.