Center for Continuing Learning (TUCL)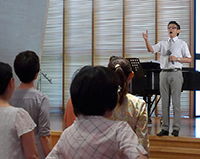 In the continuous learning society of the 21st century, college graduation is no longer the end, but is now just the beginning of lifelong learning. The role of the Continuous Learning Center is to provide learning opportunities for society and for our students.
Since its inauguration in 1995, we have steadily added courses. In 2014, 161 courses were provided with more than 4,000 participants. As for course variety, the courses offered reflect the Center's motto, "From Arts to Science." Included are such offerings as art workshops, computer and internet use and a full range of musical events and performances. In fact, this very variety defines the Center.
Course Offerings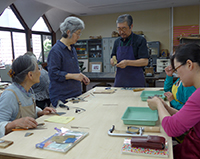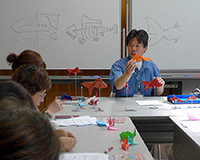 Enjoying Gardening
Dyeing with Plant Dyes
Calligraphy: Modeling Kanji
Carving Noh Masks
Introductory French Conversation
Learning Everyday English Conversation
Fundamental Course Including a Practicum in Music Therapy
Sencha Tea Ceremony
Let's Jog Together
First Aid for Children
Enjoying Pottery for Pleasure
Enjoying Origami for Pleasure
Yoga in English