English as a lingua franca program at Tamagawa University
Center for English as a Lingua Franca web site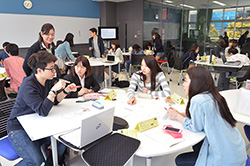 In the past few years, Tamagawa University has been working hard to reorganize its English language program to meet the needs of the globalized world. Instead of having each college organize its English language program, we began to build a campus wide program. After a year of a pilot EFL (English as a foreign language) program involving first year students of College of Business Administration and the Department of Comparative Cultures, College of Humanities in 2013, we launched our new ELF (English as a lingua franca) on April 1st, 2013. Currently, around 1,000 first and second year students, College of Business Administration, College of Arts and Sciences, College of Tourism and Hospitality as well as the Department of Comparative Cultures, College of Humanities are participating in the program. Other colleges will also join the program in the next few years.
The program is designed for our students to become able to communicate with people all over the world using English as 'a lingua franca', depending on the levels and specialties required for their majors. In addition, the students are expect to have become familiar with language learning strategies by the end of the program, so that they can apply these strategies to learning other foreign languages.
The courses are conducted in English. In addition, tutor sessions are available in various time slots so that students can consult with the instructors who can assist their studies. Considering the fact that 80% of users of English are so-called non-native speakers using English as a second or a foreign language (cf. Graddol 2006)*, our ELF courses are taught by instructors with nine different first languages including English and Japanese, and from eleven different countries. In this way, our students will be exposed to different varieties of English by the time they complete the program. Consequently, we hire our ELF teachers not based on whether s/he is a native speaker or not, but on his/her academic credentials, experience in teaching English to speakers of other languages, and intercultural backgrounds.
David Graddol. (2006) English Next. London: British Council.